Cuper's Cove Plantation Provincial Historic Site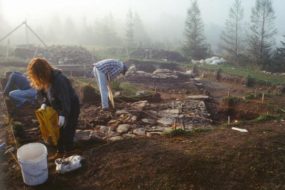 Cupids, Newfoundland and Labrador, approx 1 hour from St. John's.

Imagine…the sounds of saws and the ring of hammers echoing across the cove as Canada's first English settlers put down roots…
In August 1610, Bristol merchant John Guy arrived at Cupers Cove (now Cupids) in Conception Bay, Newfoundland with a small group of colonists. By 1613, the colonists had built at least sixteen structures, including a fort, a sawmill, gristmill and a brew house.
Every summer, archaeologists working the dig site at Cupids Cove Plantation reveal more and more about the lives of these colonists – Canada's first English settlers. Come and see what they've found today…
Cupids Cove Plantation Provincial Historic Site is operated by the Baccalieu Trail Heritage Corporation.
---
Trails
Massive Spectacle Head—or "Sparticle Head," as some residents call it—dominates the north shore of Cupids Harbour. The 100-metre climb to its bald summit brings you face to face with "the American Man," a tall stone cairn that has stood on the hilltop in one form or another for generations. The view out to Conception Bay is spectacular.
If you prefer not to climb to the top, fork left after the path passes a bog midway up. A gentler trail will lead you around the base of Spectacle Head to the former site of Cupid harbour's lighthouse.
The Burnt Head Trail begins at the end of Burnt Head Loop. A 2.7-kilometre circular path, it offers woodland sections as well as meadows and vistas over Bay de Grave and Conception Bay.
This trail's delights include a sea arch and scenic waterfall, occasional traces of long-gone communities and wonderful blueberry picking in season.
---
The Cupids Legacy Centre
2010 was a watershed year for Cupids, Canada's oldest English settlement—it marked the 400th anniversary of its founding by John Guy in 1610. The Cupids Legacy Centre was built to commemorate that event, and to house a state-of-the-art exhibit illuminating the town's long historical and cultural narrative. Here's what you'll find inside our doors.
Our Museum
A tour of the museum is an interactive experience that engages young and old alike. The exhibits are packed with stories, details, and artifacts—the more you look, the more you will discover.
Museum Shop
Our Museum Shop, right inside the Legacy Centre's front doors, is packed with local and regional crafts as well as education items and giftware related to the stories told in the Museum.
On offer are artwork, prints, crafts, clothing, jewelry, pottery, books, stamps, toys, puzzles and even an assortment of faeries and mummers. In addition, we sometimes produce our own items for sale—such as Present, Miss!, the softcover illustrated book that allows the original Cupids Museum exhibit of the same name to live on and continue to delight.